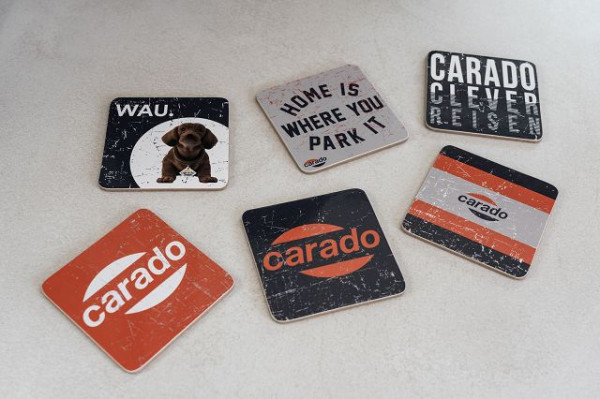 Recommended retail price including the applicable VAT. Prices may vary from country to country.
Simply send your noted products with the wishlist function to yourself, friends or your CARADO trading partner!

CARADO original accessories are not available ex factory, they are only available directly from your HYMER licensed dealer. Images shown may be subject to modifications.
Suitable for vehicles manufactured by CARADO
Model years Suitable for all model years
Model range / model Suitable for all CARADO models
Cork coaster
The Carado cork coaster set is not just a great decoration – it is also the perfect gift idea for all Carado fans.
The coasters can be used for any number of occasions, while their striking design is sure to put a smile on the face of anyone who is lucky enough to receive them as a gift.
Set consisting of 6 different coasters
Material: paper/cork
Dimensions: 9.6 x 9.6 cm
Includes storage box
Write an evaluation
Evaluations will be activated after verification.