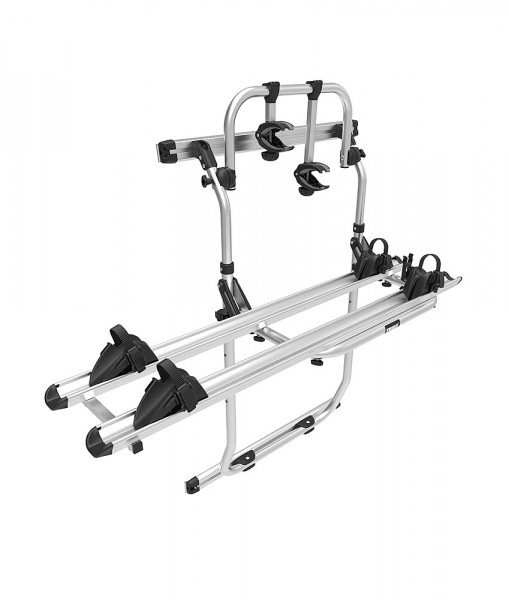 Rear-Bicycle Rack Thule Fiat Ducato
Recommended retail price including the applicable VAT. Prices may vary from country to country.
Simply send your noted products with the wishlist function to yourself, friends or your CARADO trading partner!

CARADO original accessories are not available ex factory, they are only available directly from your HYMER licensed dealer. Images shown may be subject to modifications.
Suitable for vehicles manufactured by CARADO
Model years 2018, 2019, 2020
Model range / model Camper Van
Suitable for 2 bicycles
Rear-Bicycle Rack Thule Fiat Ducato
Bonded clamping rail ensures quick and easy fitting to the rear doors without the need for drilling.
Easy to remove when not in use. The doors can be opened when the bicycle rack is loaded.
Bicycle platform is adjustable in height, with 3 different positions. Suitable for 2 bicycles
Weight: 9.5 kg
Overall load capacity: 35 kg
Load capacity per rail: 19 kg
Bicycles secured using ratchet buckles
Mounting width: 83 cm
20 cm gap between the rails for easier bicycle loading
Overall width: 130 cm/height: 125 cm/depth: 53 cm
Write an evaluation
Evaluations will be activated after verification.