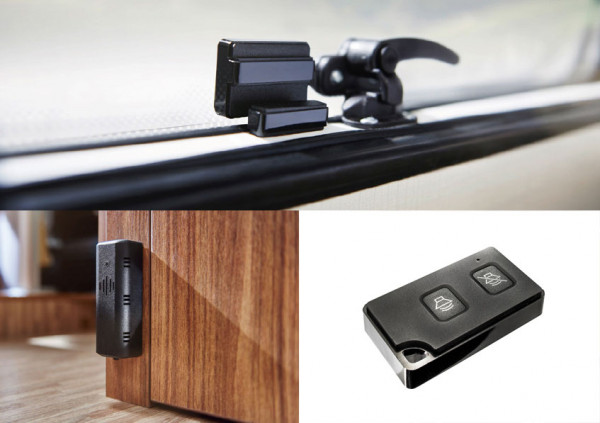 Recommended retail price including the applicable VAT. Prices may vary from country to country.
Simply send your noted products with the wishlist function to yourself, friends or your CARADO trading partner!

CARADO original accessories are not available ex factory, they are only available directly from your HYMER licensed dealer. Images shown may be subject to modifications.
Suitable for vehicles manufactured by CARADO
Model years 2016, 2017, 2018, 2019, 2020
Model range / model alcove, Semi-Integrated, Van Citroen
Security package
The Safety package has been especially designed for Carado motorhomes and offers excellent protection inside and outside your vehicle.
• WiPro3 safe.lock alarm system with specific Fiat CAN bus control device to secure both doors in the driver's cab
• A total of 4 magnetic contacts for body doors and 3 windows included in the scope of delivery
• 1 gas warner (anaesthetic gas, butane/propane)
• Possible to stay in the motorhome without deactivating the sensors
• Centralised control using the remote handheld transmitter
• Vent Check – emits warning of open magnetic contacts when the ignition is switched on
Other magnetic contacts and other radio handheld transmitter are optionally available

Power consumption: Approx. 11 mA
Power supply: 12 V
Alarm tone: Approx. 102 dB
Weight: Approx. 250 g
Central control unit dimensions: 95 mm X 78 mm X 28 mm (W x H x D)
Write an evaluation
Evaluations will be activated after verification.